About this Website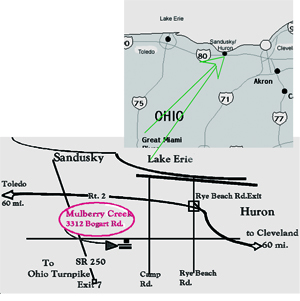 COME TO THE FARM
OPEN TUESDAY - SATURDAY 10 -5 (March-July)
DURING THE MONTH OF MAY, WE ARE ALSO OPEN SUNDAYS 1-5:00 (Also open the last 2 Sunday in April & 1st Sunday of June!)
ALWAYS CLOSED ON MONDAY

Bring a packed lunch and eat out under the pavilion. Bring a slice of bread and your little ones and have them feed our peacocks or chickens. Spend an hour or spend the day out in the country.

We are located on Bogart Road, 1.5 miles east of S.R. 250 and 2 miles west of Rye Beach Rd.

Mulberry Creek HerbFarm address is:
3312 Bogart Road, Huron, Ohio 44839.

Please, call ahead, for group tours. Buses welcome.




MULBERRY CREEK GIFT CERTIFICATES IN ANY AMOUNT
Call ahead (419-433-6126) or simply send your gift certificate request to:
Mulberry Creek HerbFarm
3312 Bogart Road
Huron, OH 44389

Include:
person's name who will receive the certificate
mailing instructions to you or the recipient
* check payable to "Mulberry Creek HerbFarm" for the certificate amount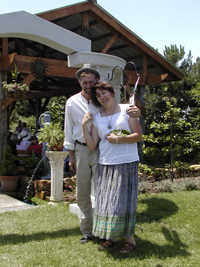 Display Gardens:
HERBFAIR THEME GARDENS BY JUNE
RAILROAD GARDEN UP AND RUNNING BY MOTHER'S DAY
Around our home and greenhouses, we have about one acre of display beds all certified organic. Visitors are encouraged to wander around to see how mature plants appear. Check out this YouTube link made by one of our customers
www.youtube.com/watch?v=DG0aDtXR5xE
Greenhouse and Phone Hours:
March 15th - July 30th:
Tuesday - Saturday 10 am - 5 pm

Extended Hours in the month of May, plus last 2 Sundays in April and 1st Sunday in June ONLY:
Sundays from 1pm - 5pm

Always closed on Mondays
Closed in August for Family

Fall hours:
Thursday - Saturday 10 am -5pm


Mastercard, Discover and V.I.S.A. accepted
While we prefer cash and checks to avoid giving the credit card companies that extra 2 or 3%, we accept "plastic."

GIFT CERTIFICATES ARE AVAILABLE ANYTIME, ANY AMOUNT. CALL KAREN @ 419-433-6126



Shipping Season:
WE NO LONGER SHIP
Our choice to remain small and focused on our family and our neighbors raises eyebrows, but we feel pretty good about it. We'll miss our friends all over the US, but we won't miss the licenses, rising shipping costs and especially the paperwork.
Please don't ask even if you live in Ohio or just want 1 package. We no longer stock the shipping supplies, hold the licenses required or have plants ready extra early for South. Please take a trip to Ohio!!!!!!



CAN'T MAKE THE TRIP TO HURON?
Find us at these establishments:
Country Gatherings/Berlin Village (Berlin, OH)
Days of Yore (Wellington, OH)
Dayton Nursery (Norton, OH)
Lodi Nursery (Ann Arbor, MI)
Mustard Seed Markets (2 stores in Akron & Solon, OH)
Village Herb Shoppe (Chagrin Falls, OH)



Find us at these plant sales

March: East Coast Train Show (York, PA)
April: Lorain Cty. Herb Sale @ Mill Hollow (Vermilion, OH)
May: Phipps Conservatory May Mart (Pittsburgh, PA)
May: The Holden Arboretum Sale (Kirtland, OH)




Top 10 Reasons Why We Chose Organic:
10. What else would we do with all our free time? Organic means do nothing right? Wrong!

9. "Prevention is worth a pound of cure"

8. It's fun to see confused pests jump off healthy plants, desperately seeking those deep green, crispy, HUGE, over-fertilized conventionally grown plants, which leads to....

7. We thought we'd treat plants right, echoing their natural habitats rather than just give'em a "pretty face."

6. Nature has so much to teach us if we'd only listen. For instance, pests are rarely tough on gardens with a variety of plants but they have a field day in acres of mono-cropping. Perhaps humankind would take note of the benefits of diversity.

5. Since money doesn't grow on (lemon verbena) trees, we choose to place our dollars in small businesses who offer alternative & earth friendly inputs, when possible, rather than the vaults of multi-national fertilizer and pesticide giants.

4. Who wants to eat herbs sprayed with pesticides when composted chicken manure taste so much better.

3. And there's nothing that compares to walking into a greenhouse, freshly sprayed with seaweed.

2. We live and play here

1. Ben, 21, and Joshua, 17

I will now step off my soap box
Thank you