Our Story: Mulberry Family Tree
Our namesake has been crowned the second largest, living (this is a winter pic), Mulberry tree in the nation! Mark & Karen may have started this farm in 1989 and opened their greenhouse doors in 1995, but BOTH of their family's agricultural roots date back several generations to Germany.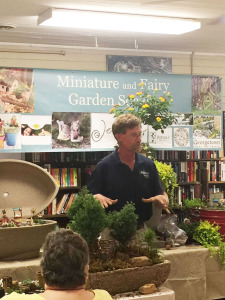 Mark's Mini Talk
Mark Langan is the artistic, organic grower, but he is the major force behind the construction and maintenance of every greenhouse. Born in Germany, raised in California and Washington, he earned a BS horticultural degree from WSU after becoming the youngest "WA State Certified Nurseryman." Mark trained with the master growers in Germany and Italy, before settling in Ohio.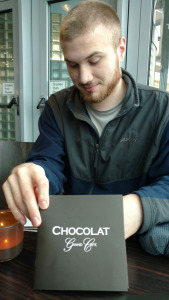 Ben in Germany
Ben Langan, eldest son of Mark & Karen, has helped in the greenhouse and gardens since about the age of eight. He earned a Bachelor's in Business from Kent State University. In the process, Ben studied abroad in Germany, adding an international business degree and an appreciation for masterfully created wines inspiring him to complete an enology (wine-making) degree, also from Kent State. You will find Ben at Quarryhill Winery (Berlin Heights) as he is their winemaker!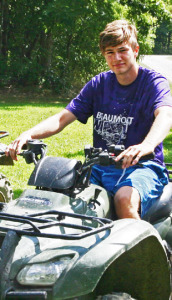 Josh On Atv
Josh Langan, like his older brother, helped in the greenhouse from an early age, drawn to repairing and assembling equipment in the greenhouse. After completing his high performance technology degree (that is, building race cars), from the University of Northwest Ohio, he was snatched up as an engine builder for "Mast Motorsports," among the best engine building shops in America. Though we miss him deeply, we are so proud and thrilled he has found a home in Nacogdoches, Texas- a lovely, pine-forested part of NE Texas with many folks who appreciate fine, classical and/or loud vehicles. My formerly "3 year old cowboy," who always knew/wanted to end up in Texas, is living the dream!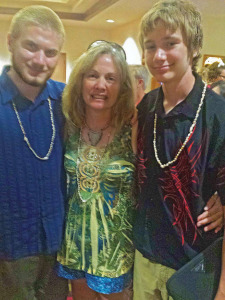 Karen and her boys
Karen Hemminger Langan leads the retail/marketing team, though her OSU degrees are in greenhouse and laboratory science. As office manager, she answers each and every email and is often on the other end of your phone call. She traded in her love of drawing for writing, so while Mark injects the high brow horticultural facts into our annual catalog, Karen polishes with flowery and (I'd like to think) humorous verbage. Someday, I will update this favorite photo from 2014!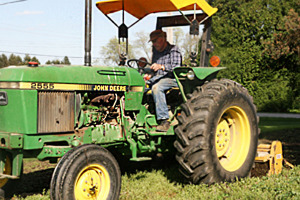 Dad on Tractor
Melba & Robert Hemminger raised eight, college educated kids (Karen was last) on a sole income of farming. Mom created over 30K meals, with minutes-from-the-garden or canned (by her), organic vegetables. Dad saw farming change from work horses to horsepower and was never far from his JD.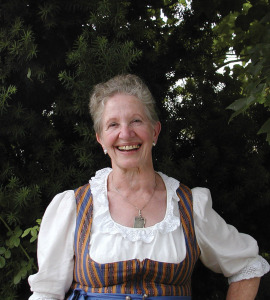 Omi
Helga & Joseph Langan instilled a strong work ethic in Mark, the eldest of five children. Extraordinary creativity was a gift Mark inherited from dad, who cultivated an ornamental and fruitful yard, after work until dark. Mom continues their work. We hope she can return to attending our herb fair this year.
Learn more about our Organic Philosophy