Need a Speaker at your Next Meeting or Conference?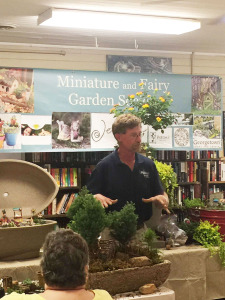 Over the past three decades, Mark and Karen have spoken at a zillion garden clubs, civic clubs, herb meetings, regional gardening conferences, and national herb symposiums. We customize every presentation according to your group's needs, time frame, and facility.
Mark or Karen can travel to your group, any month except April, May, and August. You can save the mileage and speaking fees by booking a complimentary tour of the greenhouse or gardens. It is a good idea to contact Karen, a year in advance, for any presentation or tour. You can do so, by calling Karen at 419-433-6126.
Here are just a few of the general topics we enjoy presenting:
COOKING WITH HERBS
HERB OF THE YEAR
EDIBLE FLOWERS
HARVEST & PRESERVING HERBS
MINIATURE GARDENING
FAERY GARDENING
BONSAI
CONTAINER GARDENING
ORGANIC SOLUTIONS
GROWING VEGETABLES
FRUIT WATERS
MAKING MUSTARD