homepage
Welcome to Mulberry Creek
We are open!
Tuesday - Saturday: 10:00 - 5:00
We focus on producing plants ourselves and great customer service!
PLEASE DO NOT ASK US TO RESERVE PLANTS


OUR SELF-SERVE REFRIGERATOR/FREEZER IN OUR GREENHOUSE IS AVAILABLE ANYTIME
(stocked with organic eggs, produce and "Mitchell's Homemade Ice Cream")

3312 Bogart Road Huron Ohio (minutes from Sandusky and centrally located between Cleveland and Toledo)

Spring color: so joyful!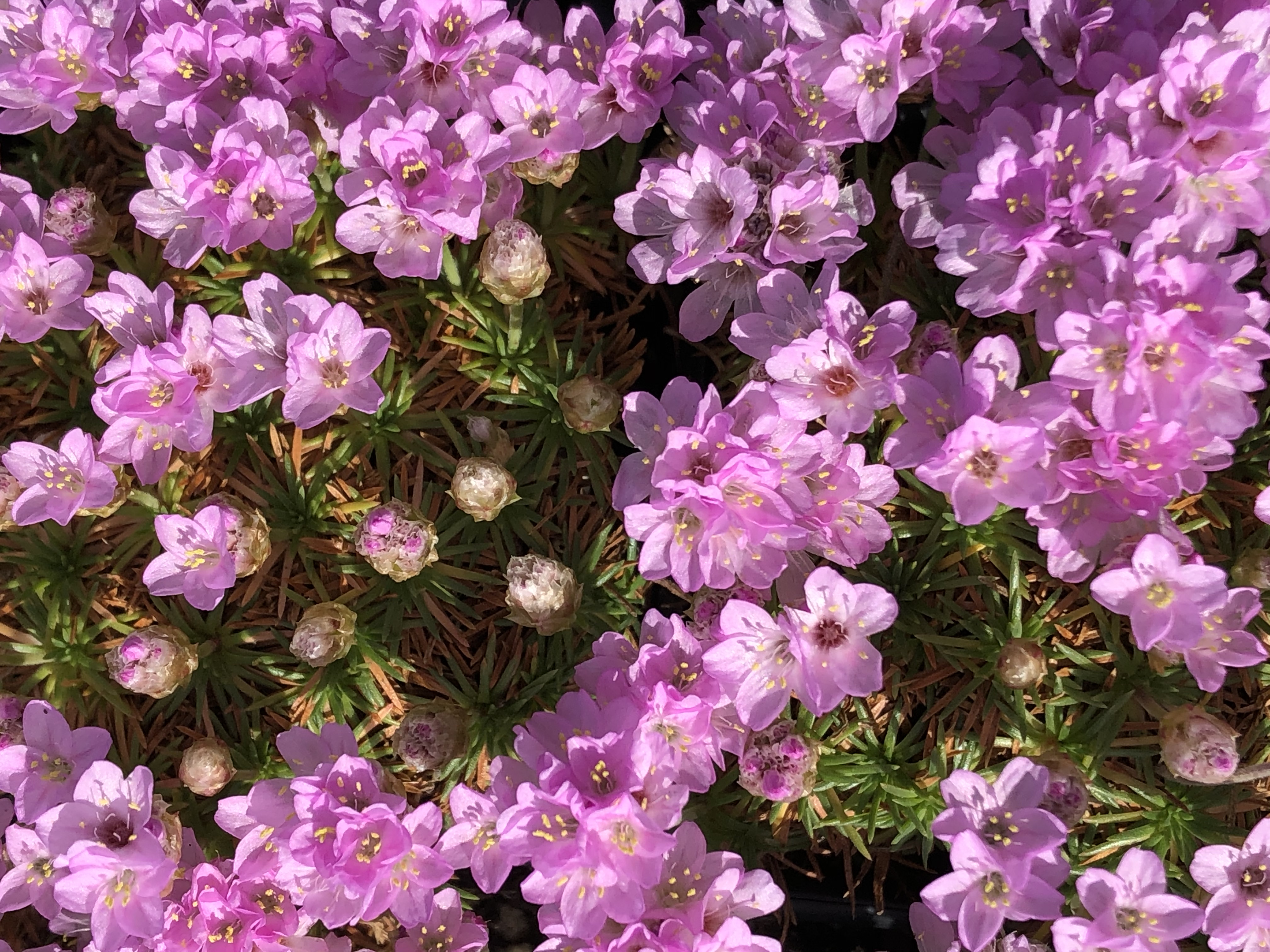 Watch Us LIVE every Wednesday at 9:30 on Facebook - details here

Thank you for supporting our Mulberry Creek Herb Farm's "HOPE CAMPAIGN"
UNWIND.
EXPERIENCE A PLANT LOVER'S PARADISE:
HERE OR VIRTUALLY HERE
Gardening has never been more important for your health, your sanity, your finances or your soul! There's no coincidence you are stirred to sink your fingers in the soil. It is the essence and sustenance of humanity and the very bosom we seek in times of uncertainty.

I started gardening when I was about 6 years old, relentlessly clipping the heels of my dad, asking him when we could plant peas, when he had a spare moment as a farmer. Naturally, when Mark and I opened our first greenhouse door on March 3, 1995, it didn't take us long to add vegetable plants to our herb line-up, so it was with pleasure and ease, that we re-tooled our business as "VICTORY GARDEN CENTRAL" for 2020. We will continue our focus on edibles in 2021 with a huge section dedicated to small space gardening.

Please enjoy our click here: archived Facebook videos as we planted a victory garden, one bed at a time, starting April 15th through June 10th. While you are on our Facebook page, I hope our "VIRTUAL MAGICAL MULBERRY TOUR" brings a little life and laughter into your lives. Stick around and join Mark's botany classes on Facebook, this spring, every Wednesday @9:30, and ask questions LIVE or check back later.

Though Mulberry Creek remained open last year, our events were "fallowed" (inactive) in 2020, but true to the purpose of fallowing, we will come back stronger, fertile with new ideas, events and workshops. Stay tuned.

YOU CAN SHOP IN OUR GREENHOUSES
There is nothing like seeing, touching, smelling and immersing yourselves in live plants.
We really do NOT want to replace that experience, so we will continue to
sanitize shopping carts, door handles, countertops and other surfaces regularly.
We don't have to touch your plants to check you out, nor your credit card, nor your receipt.
It's like a grocery store with fresh air and plenty of space.
WE WILL RESERVE OUR CURBSIDE PICK-UP FOR COMPROMISED CUSTOMERS.
JUST CALL AND WE WILL SET THE PROCESS IN MOTION.
QUESTIONS: PLEASE CALL 419-433-6126
WHEN YOU CLICK ON THE ICON BELOW TO DOWNLOAD A CATALOG,
HAVE PATIENCE PLEASE. IT MAY TAKE A MINUTE. IT IS A HUGE FILE.