Staff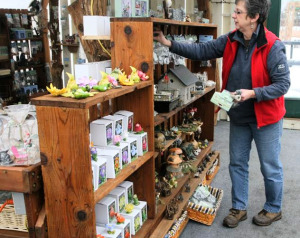 BEVERLY ANDERSON, retail manager, succulent specialist
Growing up, I spent weekends harvesting vegetables and taking care of animals at my aunts & uncles' farms in the Oberlin area, so it wasn't a stetch for me to become Mulberry Creek's first employee. I had met Karen at "Jazzercise" class, so when she called (in 1996) asking for help in retail, my adventure with Mulberry Creek began. I went away a couple of times, pursuing my art interests. To this day, I still sell my handmade greetings cards and instruct classes at various rubber stamping conventions and sales throughout this region. I returned to the herb farm about a decade ago, and have been with Mark & Karen ever since. My many interests include cooking, animals, outdoors in general, meeting new people and staying healthy. I like to spend my free time in my flower and vegetable gardens, puttering in the midst of my beautiful, free range chickens. I am blessed to be able to watch my dear ("adopted") grandchildren, Aspen and Aster, a couple of days a week. My favorite activities are creating with my hands, chatting with friends (and strangers!), and learning which is why Mulberry Creek is the perfect fit. I propagate plants in the winter, sell them in the spring and get excited about the new plants we add every year!
SHELLEY HAYES, production manager and queen of small space gardens
Greetings from Shelley Hayes, an early 90s transplant from N. Michigan. My interest in plants and gardening started very early in life. I have been blessed with many great teachers including mentors, like my grandfather, who made cough syrups & salves and propagated house plants. His creation of a five acre garden with fruits, veggies, medicinal plants and herbs was, and still is, an inspiration. Planting to saving seeds was an annual event that I participated in and looked forward to, sort of like Spring. The delight of identifying new spring plants and flowers is my annual date with Nature. Like all gardeners and lovers of plants, I found my way to Mulberry Creek Herb Farm, a plant lovers paradise with diverse and often rare collections of herbs and alpine miniatures. From my participation in the very first herb fair to the introduction of miniature landscapes, it has been a great journey! My other interests include birding, sewing, archery, basketry, trail riding and camping with our horses. I was an avid hiker and backpacker in my earlier years, when foraging and plant identification became a passion. I love to cook, from the kitchen to a dutch oven over an open fire.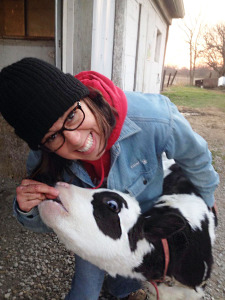 CHRISTINE KROMER, retail, propagation, & soil mixing specialist
I started gardening when I was young. My family had a fairly large vegetable garden and small flower beds that I was required to help weed. I often got caught digging up plants I didn't like. My mom canned tomatoes and green beans, thus I hated the sound of the pressure cooker and the smell of the bubbling tomatoes. In college, I majored in Environmental Science, specializing in "waste management" which meant I focused on how various chemicals traveled through soil. There, I met my future husband, a farm boy from Sandusky. I loved the farm- the tractors, the fields, and the animals. Over the past 20+ years, I have spent a lot of time at the farm, enjoying the work of it all. Working at Mulberry Creek, I have grown to love many herbs, which were relatively new to me. I especially like the sages- all the colors and textures. Now I pull out some of my older plants and slowly introduce herbs into my flower beds, especially those that attract bees and butterflies. Gardening is therapeutic. Spring bulbs turn to summer beauties. Fall brings rest and new colors yet again. God's treat to us all.
ROBERT LAFERTY, pot filling "machine"
On this small operation, a pot filling machine was out of the question. Mark and Karen were happy to employ a hard working crew from "Ability Works," but when their format changed, we connected with "Christie Lane Industries" in Norwalk, OH. They set us up with Bob, who does it all, with conviction and pride. He loves music and knows the words to hundreds of songs. His passion resulted in an encore performance. He will star in his second, outdoor, under-the-pavilion, karaoke concert this
July with an emphasis on heavy metal and good old fashioned rock music. He is addicted to the world wrestling federation events and hanging out with friends, in his free time. Bob usually has a smile and a hug to offer, despite the fact that he is a die hard Cleveland sports fan.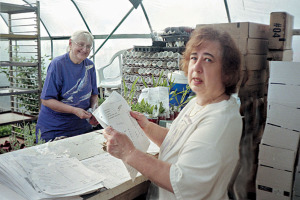 CATHY OSKO & JEANNE STASHICK, premiere transplanting team
First came Jeanne almost 20 years ago. Every time she shopped, she brought new friends which would've been reason enough to hire her, as she was well-connected, but I soon discovered this savvy business woman had terrific organizational skills, and she was fun- the perfect qualifications for operating our mail order business. A year later, she brought her cousin Cathy. We needed a math whiz and an efficient, hard working , fun-loving partner to Jeanne, and Cathy was it. Cathy's description of growing up, fully immersed in the culture of Cleveland and stories about the international students she encountered as a professional at Cleveland State, made the afternoons fly by. They may be a dynamic duo and relatives, but their opposite preferences crack us up. Cathy loves opera and is always cold, while Jeanne heats up quickly and opera makes her "homocidal." Like most of our employees, both are excellent cooks. They have hosted several progressive dinners for the staff , right after the herb fair. We look forward to March, April and May, when these two arrive to "play in the soil".
PARTNERS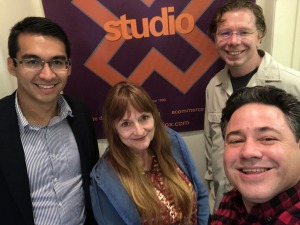 KYLE LANGAN & the extraordinary "studio x" staff
Not only a brother to Mark, Kyle is an exceptionally talented webmaster. I literally gave him the bones of this website renovation project and he gave it life, converting my content into "html" language in a fast, professional and efficient manner. The "Studio X" design staff trimmed our rough edges and polished the imagery. Mark and I are so gratefuI to be able to concentrate on what we do best. Now, I can get off this ding dangled computer and leave my heart and soul into the most capable hands of Kyle and company. I highly recommend "Studio X" out of Sante Fe, New Mexico. They are responsible for designing and maintaining numerous, prestigious websites like "Santafe.org."
VOLUNTEERS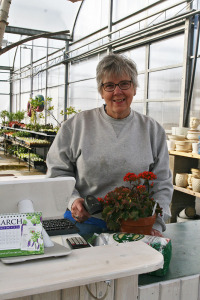 DEBBIE BAHR, herb enthusiast & sales pro
My love of gardening started early. Benjamin Franklin (the elementary school I attended in Cleveland) owned acres of land at the school. Students were offered a garden plot for the summer and the school provided tools, seeds, plants, and education. I enjoyed several summers of bringing home vegetables I had grown. On the home front, my Ohio grandparents had a large garden and fruit trees. My Tennessee grandparents had gardens, fruit trees, and honey bees. They also raised their own beef cattle, dairy cows, pigs, and chickens. When I became a homeowner in Cleveland, I landscaped my 'postage stamp' yard. My current "country" home, is a 'forever' landscaping project. My herb garden has been limited to growing in containers, but I am looking forward to planning vegetable and herb gardens. I have learned much from the members of "Thyme for Friends," a local herb club, where I also learned about Mulberry Creek Herb Farm. For years, I have attended Mulberry Creek classes and have enjoyed the annual Herb Festivals. I look forward to volunteering here and learning about the hard work of operating an organic farm.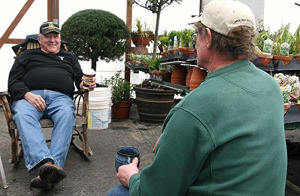 PAUL DECKER, bonsai artist, pruning specialist
As a young boy, growing up in a rural area, one of my daily chores in the summer was to help weed and cultivate what I thought was the largest garden in the whole neighborhood. If I had any spare time, I had to help mom weed the flower beds. Because of these duties, I really never enjoyed the garden or the produce as a child. It wasn't until I married and had our first home, garden, and flower beds, that I learned to enjoy the outdoors. I took pride in our lawn and the wife's flower beds. At the age of 40, I attended a silent auction to raise money for the local high school athletic association. In that auction, was what soon became my first of many Bonsais. That was 1985. This led to my joining the local Bonsai club, and after some time, I served as president for 10 years. I retired in 2007 and have greatly
enjoyed my yard, flower beds and, of course, my collection of Bonsai. I eventually began working at Mulberry Creek Herb Farm and have enjoyed becoming one of their regular volunteers. Yet to this day, it is still very satisfying to see God's gifts to us grow and become food to eat or plants that grow into nature's products of beauty.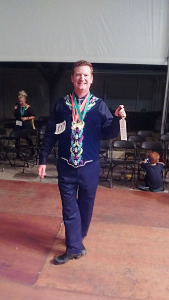 DON JACOBSEN
When I was young my mom always gardened, so I used to help her. I dabbled here and there, but really did not get into it until I was in my late 20's and early 30's. Most of my experience was just learning as I went. I gathered most of what I know from working at Mulberry Creek. I've been a hairstylist for 33 years, and I work in the catering department at "Progressive Field". I am currently in culinary school, and I cater on the side, specializing in gluten-free, grain-free, paleo, and food allergies. I decorate, table scape, and do all the floral arrangments. When I finish my culinary degree, I plan to attend "Tri C" to get my event planning certification, as well as a degree to interpret sign language and Spanish. I have earned medals in culinary contests, as well as competitive Irish dancing. I perform with the Murphy Irish Arts Center in Beachwood, OH. I got acquainted with Mulberry Creek after I learned about faery gardening. At first, I thought it was one of the stupidest things I had ever heard, but now I'm known as the faery garden guy, go figure. I design faery gardens and teach classes for Mulberry Creek and the MetroParks. I do home faery gardening parties for adults and kids alike. I also love doing crafty things, creating (like decorative painting), and spending time with family and friends. What I love about gardening is it makes me feel close to God and nature. It's like birthing living things that you know are good for you and the environment.