MULBERRY CREEK E-NEWSLETTERS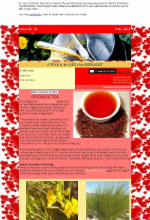 Every month, I feature a different herb, pointing out varieties, care, and recipes. Mulberry Creek event details are included. Surprises and sneak peaks are to be expected.
There are at least a couple of ways to receive this information:
Find our enewsletters on the "Mulberry Creek Herb Farm" Facebook page. Open them up and click on the "Subscribe" tab in the upper right hand corner.
Email Karen (mulberrycreekherbs@gmail.com) with your e-mail address and an "e-newsletter request" in the subject line.
Note: To up chances of future e-newsletters landing in your inbox rather than spam, please add "
mulberrycreekherbs@gmail.com
" to your contact list.
2018 e-newsletter include:
January - Rosemary
February - Rooibos Tea
March - Scented Geraniums
April - Faery Fest
May- Mint & Mother's Day Containers
June- Herb Fair News
August- Rejuvenating your Garden
September- Garlic Fest News
October- Christmas Open House Details
November- Echinacea
December- Cardamom & Glühwein

2019 e-newsletters
January- Qi Gong and Chamomile