HANDOUTS & RECIPES
If instructors provide handouts pertaining to classes held during Mulberry Creek events, we will place them here. Check back to see if recipes featured in classes or refreshments at our events, pop up here. I'll start with my opening day soup and recipes from our staff.
WILD MUSHROOM TART
Serves 6
Cook time: 35 minutes
1 sheet frozen puff pastry (from a 17-ounce box that contains 2 sheets)
2 medium shallots
6 ounces Gruyère cheese, shredded (about 1 1/2 cups)
1 pound sliced wild mixed mushrooms, such as cremini, shiitake, oyster
2 tablespoons olive oil
1/2 teaspoon kosher salt
All-purpose flour, for rolling
5 fresh thyme sprigs
Thaw 1 sheet puff pastry in the refrigerator according to package directions. Refrigerate until ready to use.

Arrange a rack in the middle of the oven and heat the oven to 400ºF. Meanwhile, thinly slice 2 shallots and shred 6 ounces Gruyère cheese (1 1/2 cups). Heat 2 tablespoons olive oil in a large skillet over medium-high heat until shimmering. Add the shallots and cook, stirring occasionally, until softened, about 3 minutes. Stir in 1 pound sliced mushrooms and 1/2 teaspoon kosher salt, and continue cooking until the mushrooms release their liquid and it cooks off, about 10 minutes. Remove from the heat.

Unroll or unfold the puff pastry onto a lightly floured surface. Roll out to a 10x16-inch rectangle. Transfer to a parchment-lined baking sheet. Sprinkle with the cheese, leaving a 1-inch border. Top with the mushrooms and 5 fresh thyme sprigs.

Bake until puffed, lightly browned, and the cheese is melted, 20 to 25 minutes. Cut into 6 squares and serve warm or at room temperature.
LIMONCELLO, Traditional
This recipe makes 2 quarts
Takes 9 days until it is ready
750 ml Vodka, 80 proof (Mark liked "Svedka")
8 organic lemons
2 cups sugar
4 cups water
2 cups herbs
1. Peel lemons leaving just a little white on the peel. Scrape off if the white layer is thick.
2. Place peels in a 2 quart or slightly larger jar and pour the vodka over the them.
3. Store in a cool, dark cupboard, for 4 days, shaking the jar daily.
4. On the 5th day, prepare the simple syrup by bringing the sugar and water just to a boil, to dissolve the sugar completely, in a medium-sized sauce pan. Add fresh herbs like lemon verbena, pineapple sage and/or orange mint. Cover. Turn off heat, but leave the pan on the burner for 5 minutes. Take off the burner and cool overnight.
5. On the 6th day, strain the syrup. Add and stir into the vodka and peels.
6. Pour all into a decorative jar, if desired, and store in the cool cupboard for a couple more days.
7. On the 9th day, serve cold with ice.
8. Store in the refrigerator.
LIMONCELLO, updated herb version
This recipes makes 8 pints and takes about 2 weeks to "mellow."

The herbs and herb combinations are what I used. Consider them all suggestions.


6 cups water
5 cups sugar
4 bunches of fresh lemon verbena
12 large organic lemons
1 organic orange, if desired
8 cups (80 proof) vodka, "Svedka" is Mark's choice
8 bunches (about 3 stems that are 2" long) of the following:
- tangerine sage
- lemon thyme & lime thyme combo
- pineapple mint
- 1" sprig rosemary & 4 sprigs orange mint combo
- sunset anise hyssop
- strawberry mint
- ginger mint
- orange peels with orange mint & rosemary combo
Day one:

1. Prepare simple syrup by bringing the sugar and water to a boil, adding handfuls of fresh lemon verbena
2. Peel lemons leaving just a little white. Scrape off white layer if it is thick.
3. In each pint jar add:
- the peels of roughly 1-1/2 lemons and the peel of 1 orange to the last pint jar
- a different fresh herb (or combo) listed above
- 1 cup vodka
- 1 cup simple syrup
4. Store in a cool, dark cupboard and shake daily. (I put them on the doors, which have little shelves, of my pantry, so I open that, and thus shake them, daily)

After 2 weeks:
Strain and serve cold.
I will store in my refrigerator for easy serving.

LUSCIOUS LEMONADE
Here's what you could do with those 12 peeled lemons from the Limoncello. I have stored the squeezed lemon juice in the refrigerator for up to 2 weeks to make the following or I just get fresh lemons.

If your pitcher can handle it all, you can double this recipe, since you have 12 peeled lemon and enough simple syrup for two.
1 cup herbal simple syrup:
1-2 cups sugar
2 cups water
fresh lemon verbena
more fresh herbs for pitcher and for glasses
2/3 cup fresh squeezed lemons (about 6 lemons)
3 cups water
1 cup sparkling water
optional: 2 ounces limoncello per glass
1. Prepare the simple syrup by bringing the water and sugar JUST to a boil, in a medium-sized saucepan, dissolving the sugar as you stir. Cover, turn off heat and keep it on the burner for just 5 minutes. Take off heat and cool overnight.
2. The next day strain the syrup and add it, the lemon juice, and water to a 2 quart pitcher. Chill overnight or at least 4 hours.
3. Into each glass, pour 1-2 ounces limoncello, (if you wish) and about 4 ounces lemonade. Top off with fresh sprigs of herbs and sparkling mineral water.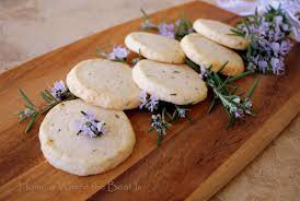 KATHY MILLER'S LAVENDER ROSEMARY SHORTBREAD COOKIES
This recipe is from my daughter, Ellen. Although not technically a Christmas cookie, we look forward to them every year.
½ cup granulated sugar
2 teaspoons chopped fresh rosemary
1 teaspoon dried lavender buds
1 cup salted butter, softened
2 cups all purpose flour
¼ teaspoon baking powder
1/8 teaspoon table salt
2 tablespoons demerara sugar
Process granulated sugar, rosemary and lavender buds in a food processor until rosemary and lavender are finely chopped, about 1 minute.
Beat softened butter until fluffy. Add sugar mixture, beating until smooth.
Stir together flour, baking powder, and salt in a medium bowl. Add flour mixture to butter mixture and mix until just blended.
Shape dough into two- 8 inch logs. Roll each log in the demerara sugar and wrap in wax paper. Chill for 3 hours.

Preheat oven to 350 degrees.
Cut each log into 24 slices and place one inch apart on baking sheets lined with parchment paper.
Bake in preheated oven until edges are golden, about 10 to 12 minutes.
Cool on wire racks. Store in airtight containers.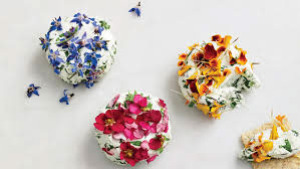 SHELLEY'S HERBAL CHEESE BALL WITH EDIBLE FLOWERS
If your garden contains only a few culinary herbs, here is a recipe that even a beginning gardener can try.
Have fun and share with your friends for an instant "Party in the Garden"!
16 ounces of soft cheese, (cream or goat cheese, at room temperature)
1 cup edible flowers, rinsed & air dried (sweet violet, chives, monarda, gem marigold, OR nasturtium flowers)
5 tablespoons chopped fresh or 5 teaspoons dried herbs (chives, parsley, thyme, oregano, OR savory)
small round bottom bowl
plastic wrap
Gently fold herbal blend into softened cheese. Set aside. Put sheet of plastic wrap into bowl and press down.
Arrange edible flowers face down in an attractive arrangement. Gently fold softened cheese mixture into bowl over flowers. Cover tightly and refrigerate
several hours or overnight. When ready to serve, invert onto plate. Remove plastic wrap and arrange remaining flowers around the edge of the cheese
ball. Serve with crackers or small toasted bagels. Enjoy.
Dijon-style Herbal Mustard

INGREDIENTS FOR A PINT JAR

(1 pound whole mustard seed results in 6 pint jars of prepared mustard)

3/4 c. MUSTARD SEED: whole, coarsely ground, powdered; yellow, brown or any combination

1/4 c. each LIQUID: 1/4 c. water, then 1/4 c. vinegar (sherry, wine or apple cider vinegar)

OR - 1/4 c. water, then 1/4 c. stout beer or liqueurs (for hot mustards)

1-2 T. FRESH HERBS: (tarragon, dill, chives or garlic OR

1-2 tsp. DRIED HERBS (thyme, savory, rosemary, oregano, or basil OR a dried blend)

2 tsp. to 4 T. SWEETENERS: jams, honey, brown sugar (light or dark), brown rice syrup

OTHER OPTIONS: jalapenos, chili oil, horseradish

FRESH THYME & GARLIC MUSTARD

3/4 c. fresh ground yellow OR yellow + brown mustard seeds

1/4 c. water

1/4 c. vinegar

2 tsp. honey

*2 tsp. fresh thyme, minced

**1 clove garlic, minced

1/4 tsp. salt

1-2 T. "Vermilion Valley Vineyard" Pinot Noir wine

TASTE OF TUSCANY MUSTARD

*substitute 1 tsp. dried Italian Seasonings

**omit fresh garlic
Grind mustard. Add water. Set timer for 10-15 minutes. During this time you can mince fresh herbs and garlic and prepare a label and apply it to a pint jar. On label, mention ingredients, starting date (= 1 month after preparing), expiration date (=3 months for fresh herbs or 12 months for dried) and uses, along with the title and your name. When the timer buzzes, add vinegar, honey, herbs, garlic and salt. Stir. Add wine to achieve the consistency that you desire.

Pour into clean, labelled jars. Fill to about 1/2" of the rim. Screw on lid. Age for 4 weeks in a cool, dark basement OR a dark pantry.

Once opened, refrigerate.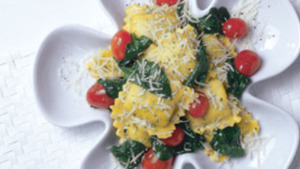 DON JACOBSEN'S FAMOUS HERB BUTTER RAVIOLI
1 stick of butter
about 1/4 cup olive oil
1/4 cup Parmesan cheese
1 package of cheese ravioli
1 tablespoon fresh basil or 1 teaspoon dried
1 tablespoon fresh parsley
1/2 cup tomatoes cut into chunks
1 tablespoon fresh oregano or 1 teaspoon dried
salt and pepper to taste
Combine butter, oil, herbs, Parmesan cheese and herbs by using a hand mixer or you can do it by hand. Boil ravioli and drain. Add herb butter and mix to melt. Top with tomatoes, extra Parmesan cheese and extra parsley. Drizzle with olive oil. Can substitute grape tomatoes for chopped ones.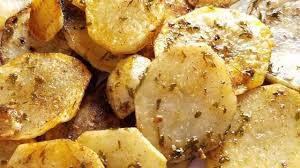 KATHY HUGHES' FRIED POTATOES
- serves 4
4 - 5 potatoes, peeled and sliced
4 tablespoons butter
1/2 onion, chopped
1 clove garlic, minced
white pepper & salt, to taste
chop the following fresh herbs:
1 teaspoon fresh rosemary
1 teaspoon fresh sage
2 teaspoons fresh dillweed
2 teaspoons fresh chive
Melt butter in frying pan on medium-high, add potatoes, onion, salt and pepper. Once browned and soft, add remaining herbs. Cook until potatoes are crispy!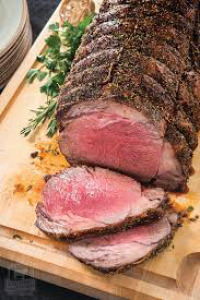 PAUL DECKER'S NEVER FAIL PRIME RIB
As a result of the things we grow at Mulberry Creek, it is easy to create recipes for your friends and families.
DRY RUB:
1/3 cup salt
3 teaspoons dry mustard
4 teaspoons fresh ground pepper
1 fresh garlic, minced
1-1/2 teaspoon garlic powder
1 tablespoon onion powder
2 teaspoons dried thyme
2 teaspoons dried oregano
2 teaspoons dried coriander
Allow your roast to stand at room temperature for at least 1 hour. Preheat the oven to 375 degrees. Season the roast with the dry rub and place in a shallow roasting pan. Do not cover or add water. Put roast in oven and bake for only 1 hour. Turn off oven, but do not open the door at any time until ready to serve. Regardless of the size of the roast, or the length of time the roast has been in the oven, turn oven back on at 375 degrees for 30 to 40 minutes before serving time. Let roast stand for 10 to 15 minutes before carving. The meat will be brown and crisp on the outside, pink and juicy on the inside. Garnish with parsley.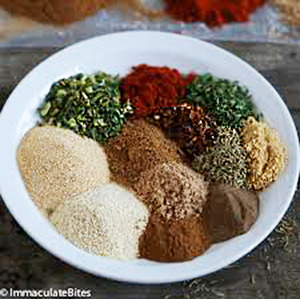 KRIS HILTY'S JERK SEASONING
It is great on meat and any vegetable.
1 tablespoon onion flakes
2 teaspoons ground thyme
1 teaspoon dried parsley
1 teaspoon ground allspice
1/4 teaspoon ground cinnamon
1 teaspoon ground black pepper
1/2 teaspoon cayenne pepper
1 teaspoon paprika
1/2 teaspoon hot pepper flakes
1/4 teaspoon ground cumin
1 tablespoon garlic powder
2 teaspoons salt
1/4 teaspoon ground nutmeG
2 teaspoons sugar
2 teaspoons dried chives
Just mix together and season to taste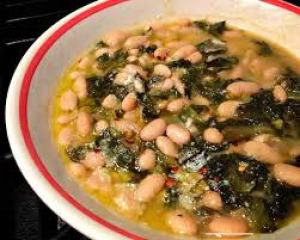 Bean And Bacon Soup
2 tablespoons extra-virgin olive oil
10-16 ounces applewood-smoked slab bacon, cut into 1/2-inch slices
2 medium onions, finely chopped
1 large shallot, finely chopped
2 quarts homemade or low-sodium store-bought chicken stock
4- 15 ounce cans assorted beans (Cannelini, White Northern, Pinto, Black)
3 large thyme sprigs
1/4 teaspoon cayenne pepper
1 garlic clove, minced
Freshly ground pepper
1 bunch each, kale & Swiss chard, sliced into slivers
Heat oil in a large, heavy saucepan over medium heat until hot but not smoking. Add bacon, and cook, stirring occasionally, until crisp, about 12 minutes.
Using a slotted spoon, transfer to a plate. Add onions and shallot to pan. Cook, stirring occasionally, until onions are translucent and soft, about 8 minutes.
Return bacon to pan. Stir in stock, beans, thyme, and cayenne. Bring to a boil. Reduce heat. Add garlic glove, cover, and simmer 30 minutes.
Stir in chard and kale. Cook 8-10 minutes. Season with fresh ground pepper. (I omitted salt with the bacon & chard being salty already.)
Lavender & Earl Grey Chocolate Truffles
This recipe is easy and fool-proof, unlike other truffle recipes I've trialed. Use this as a starter and try variations. Try triple sec instead of lavender syrup. Use white chocolate for semi-sweet. Experiment.
3/4 cup heavy cream
1 tablespoon dried lavender (remember to get Lavender angustifolia, that is, lavender meant for eating not crafting)
2 Earl Grey tea bags
1/4 teaspoon kosher salt, divided
12 ounces "Ghiradelli" or even better semi-sweet chocolate, chopped
1/2 teaspoon lavender syrup (optional)
1/2 teaspoon vanilla extract
5 cardamom seeds (optional)
1 cup lightly toasted almonds, finely ground
Sprinkle dried lavender into heavy cream. Shake or stir and refrigerate overnight.
Next day, strain the cream into a one quart saucepan and discard lavender. Bring the cream to a boil. Remove from heat and add tea bags and HALF the salt. Cover and steep for 10 minutes.
Squeeze tea bags and discard. Add chocolate, return to medium heat and stir until melted, about 3 minutes. Take off heat. Stir in lavender syrup and vanilla.
Pour into an 8 x 8 inches pan, lined with parchment paper. Cool to room temperature. Refrigerate for two hours or more.
Meanwhile, grind cardamom seeds in a coffee grinder until fine. Add toasted almonds and the remaining HALF of the salt and continue to a fine ground. Drop into a cereal bowl.
When chocolate is solid, cut it into about 3 dozen pieces. I waited about 20 minutes before I rolled it into truffle-sized balls. Roll in almond/cardamom mix and display.
Instead of refrigerating as the original recipe suggests, I find the truffles much better just kept a room temperature and eaten up quickly. Freeze part of the batch that you won't eat up in 3 or 4 days.
LEMON, GINGER, CLOVE HOMEMADE COUGH DROPS

1/2 cup water

1 cup evaporated cane juice or granulated sugar

1 tablespoon honey

1 tablespoon fresh lemon juice

1/4 to 1/2 teaspoon, or more, ground ginger

1/8 to 1/4 teaspoon ground cloves

powdered sugar or cornstarch, for coating
1. Prepare a baking sheet by lining it with parchment paper, or greasing very well. A marble slab comes in handy and helps the drops cool quickly.
2. Combine the ingredients, except for powdered sugar or cornstarch, in a heavy-bottomed pot or saucepan.
3. Cook to hard crack stage, about 300°F. This may take between 15-20 minutes, or longer depending on the pan and stove.
4. Test by dropping a little from a spoon into a bowl of ice water. If it cracks, it's ready. If it's chewy, cook for a few more minutes.
5. Remove from the heat. Be careful not to let it burn - the temperature rises quickly at the end.
6. Let the mixture cool slightly. Drop onto baking sheet into rounds.
7. Allow to cool completely. Dust with the powdered sugar or cornstarch.
8. Store in an airtight container in a cool, dry place away from any moisture. (Moisture will cause them to stick together.) Alternatively, they can be dusted and wrapped individually in small pieces of waxed or parchment paper.

Notes

Adapted from Mind Body Green. Note: These only take about 25-30 minutes to make, but need extra time for cooling.

HOMEMADE COUGH SYRUP IN THE INSTANT POT

2 cups water

8 sprigs fresh thyme

1/4 cup ground ginger finely chopped

1 cup raw honey preferably local

1 lemon juiced

1/8 teaspoon dried ground cayenne pepper
1. Put water, thyme, and chopped ginger into the Instant Pot.
2. Press the Saute button.
3. Simmer the herbs in water until reduced by half.
4. Allow to cool until the temperature is warm, not hot, steeping the herbs the entire time.
5. Strain.
6. Discard or compost the thyme and ginger.
7. Return the thyme-ginger tea to the Instant Pot.
8. Whisk in honey, lemon juice, and cayenne pepper, if using.
9. Transfer to an airtight jar or bottle.
10. Syrup will keep in a dark cupboard for 1 week. After that, it should be stored in the refrigerator.
11. Administer a tablespoon as often as necessary to soothe a sore throat and calm a cough.

HOW TO MAKE ELDERBERRY SYRUP TO AVOID THE FLU

From this most excellent website:

wellnessmama.com1888elderberry

-syrup/

Author: Katie Wells

A simple elderberry syrup recipe made with dried elderberries, honey and herbs for an immune boosting and delicious syrup. Use medicinally or on homemade pancakes or waffles.

2/3 cup dried black elderberries or 1 1/3 cups fresh or frozen

3½ cups water

2 TBSP fresh or dried ginger root

1 tsp cinnamon powder

½ tsp cloves or clove powder

1 cup raw honey
1. Pour water into medium saucepan and add elderberries, ginger, cinnamon, and cloves.
2. Bring to a boil and then cover and reduce to a simmer for about 45 minutes to an hour until the liquid has reduced by almost half.
3. Remove from heat and let cool until it is cool enough to be handled.
4. Mash the berries carefully using a spoon or other flat utensil.
5. Pour through a strainer into a glass jar or bowl.
6. Discard the elderberries and let the liquid cool to lukewarm.
7. When it is no longer hot, add the honey and stir well.
8. When the honey is well mixed into the elderberry mixture, pour the syrup into a quart sized mason jar or 16 ounce glass bottle of some kind.
9. Ta-da! You just made homemade elderberry syrup! Store in the fridge and take daily for its immune boosting properties. Some sources recommend taking only during the week and not on the weekends to boost immunity.

Notes
Instant Pot option: Put all ingredients except honey in pot, seal lid, and set manually for 9 minutes on high pressure. Vent pressure and strain. When cooled to room temperature, stir in the honey.
Standard dose is ½ tsp - 1 tsp for kids and ½ - 1 tablespoon for adults. If the flu does strike, take the normal dose every 2-3 hours instead of once a day until symptoms disappear.
CRAFT YOUR OWN FIRE CIDER

1/2 cup fresh grated organic ginger root

1/2 cup fresh grated organic horseradish root

1 medium organic onion, chopped

10 cloves of organic garlic, crushed or chopped

2 organic jalapeno peppers, chopped

Zest and juice from 1 organic lemon

2 Tbsp. of dried rosemary leaves

1 Tbsp. organic turmeric powder

1/4 tsp. organic cayenne powder

organic apple cider vinegar

1/4 cup of raw local honey, or to taste
1. Prepare your roots, fruits, and herbs and place them in a quart-sized glass jar. If you've never grated fresh horseradish, be prepared for a powerful sinus-opening experience!
2. Pour the apple cider vinegar in the jar until all of the ingredients are covered and the vinegar reaches the jar's top.
3. Use a piece of natural parchment paper under the lid to keep the vinegar from touching the metal, or a plastic lid if you have one. Shake well.
4. Store in a dark, cool place for a month and remember to shake daily.
5. After one month, use cheesecloth to strain out the pulp, pouring the vinegar into a clean jar. Be sure to squeeze as much of the liquidy goodness as you can from the pulp while straining.
6. Next comes the honey. Add and stir until incorporated.
7. Taste your cider and add more honey until you reach the desired sweetness.


Herbal Ingredient Variations

These organic herbs and spices would make a wonderful addition to your Fire Cider creations. You can find them all and more in our (Mountain Rose Herb) shop!

Thyme, Horseradish Root Powder, Rosehips, Star Anise, Schisandra Berries, Astragalus, Parsley , Burdock, Oregano, Peppercorns, Beet Root Powder, Habanero Powder, Bird's Eye Chili Powder, Whole Chili Peppers, Orange, Grapefruit, Lime peels/or juice.
WHITE PINE NEEDLE TEA

½ cup of pine needles, green young needles are best

1.5 pints of water

Notes:

You can also put them in unbleached tea bags.

The tea should be red in color with a little oil floating on top.

You can add honey or cinnamon if you like, (Since the author has type 2 diabetes, she adds cinnamon).

It really doesn't taste like pine; it has a very mild flavor.

White pine needles have 5 needles on each sprig… but you can use any pine or fir tree, though the

recipe may differ.

Remember:

Some pine and fir trees are poisonous.

Pour boiled water in a cup. Do not boil needles in a sealed jar as this may release harmful turpentine.

View this video at about 5 minute mark --

forward the video

www.youtube.com/watch?v=IrSqva1Y9Bg

Submitted by Alex P

Do not drink pine needle tea when pregnant or if you are allergic to pine.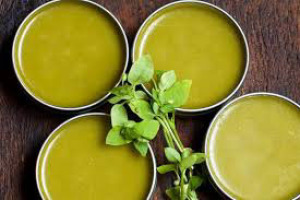 KATHY ADDS:

The following link is my "new thing to try this year." My grandma used to make a black drawing salve that she swore by. I am looking for a recipe that would be comparable.

I have made plantain salves in the past and use it liberally on myself and my dogs and cats for small wounds, sunburn and insect bites. Check out:

learningherbs.com/remedies-recipes/chickweed-salve

½ cup of pine needles, green young needles are best

1.5 pints of water