HANDOUTS & RECIPES
If instructors provide handouts pertaining to classes held during Mulberry Creek events, we will place them here. Check back to see if recipes featured in classes or refreshments at our events, pop up here. I'll start with my opening day soup and recipes from our staff.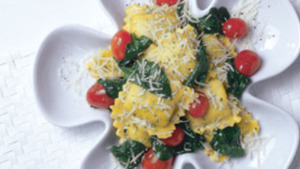 DON JACOBSEN'S FAMOUS HERB BUTTER RAVIOLI
1 stick of butter
about 1/4 cup olive oil
1/4 cup Parmesan cheese
1 package of cheese ravioli
1 tablespoon fresh basil or 1 teaspoon dried
1 tablespoon fresh parsley
1/2 cup tomatoes cut into chunks
1 tablespoon fresh oregano or 1 teaspoon dried
salt and pepper to taste
Combine butter, oil, herbs, Parmesan cheese and herbs by using a hand mixer or you can do it by hand. Boil ravioli and drain. Add herb butter and mix to melt. Top with tomatoes, extra Parmesan cheese and extra parsley. Drizzle with olive oil. Can substitute grape tomatoes for chopped ones.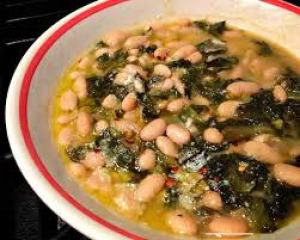 Bean And Bacon Soup
2 tablespoons extra-virgin olive oil
10-16 ounces applewood-smoked slab bacon, cut into 1/2-inch slices
2 medium onions, finely chopped
1 large shallot, finely chopped
2 quarts homemade or low-sodium store-bought chicken stock
4- 15 ounce cans assorted beans (Cannelini, White Northern, Pinto, Black)
3 large thyme sprigs
1/4 teaspoon cayenne pepper
1 garlic clove, minced
Freshly ground pepper
1 bunch each, kale & Swiss chard, sliced into slivers
Heat oil in a large, heavy saucepan over medium heat until hot but not smoking. Add bacon, and cook, stirring occasionally, until crisp, about 12 minutes.
Using a slotted spoon, transfer to a plate. Add onions and shallot to pan. Cook, stirring occasionally, until onions are translucent and soft, about 8 minutes.
Return bacon to pan. Stir in stock, beans, thyme, and cayenne. Bring to a boil. Reduce heat. Add garlic glove, cover, and simmer 30 minutes.
Stir in chard and kale. Cook 8-10 minutes. Season with fresh ground pepper. (I omitted salt with the bacon & chard being salty already.)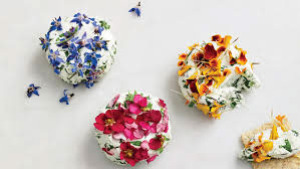 SHELLEY'S HERBAL CHEESE BALL WITH EDIBLE FLOWERS
If your garden contains only a few culinary herbs, here is a recipe that even a beginning gardener can try.
Have fun and share with your friends for an instant "Party in the Garden"!
16 ounces of soft cheese, (cream or goat cheese, at room temperature)
1 cup edible flowers, rinsed & air dried (sweet violet, chives, monarda, gem marigold, OR nasturtium flowers)
5 tablespoons chopped fresh or 5 teaspoons dried herbs (chives, parsley, thyme, oregano, OR savory)
small round bottom bowl
plastic wrap
Gently fold herbal blend into softened cheese. Set aside. Put sheet of plastic wrap into bowl and press down.
Arrange edible flowers face down in an attractive arrangement. Gently fold softened cheese mixture into bowl over flowers. Cover tightly and refrigerate
several hours or overnight. When ready to serve, invert onto plate. Remove plastic wrap and arrange remaining flowers around the edge of the cheese
ball. Serve with crackers or small toasted bagels. Enjoy.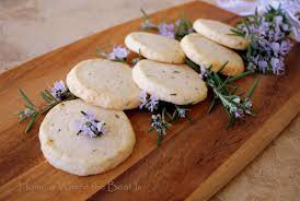 KATHY MILLER'S LAVENDER ROSEMARY SHORTBREAD COOKIES
This recipe is from my daughter, Ellen. Although not technically a Christmas cookie, we look forward to them every year.
½ cup granulated sugar
2 teaspoons chopped fresh rosemary
1 teaspoon dried lavender buds
1 cup salted butter, softened
2 cups all purpose flour
¼ teaspoon baking powder
1/8 teaspoon table salt
2 tablespoons demerara sugar
Process granulated sugar, rosemary and lavender buds in a food processor until rosemary and lavender are finely chopped, about 1 minute.
Beat softened butter until fluffy. Add sugar mixture, beating until smooth.
Stir together flour, baking powder, and salt in a medium bowl. Add flour mixture to butter mixture and mix until just blended.
Shape dough into two- 8 inch logs. Roll each log in the demerara sugar and wrap in wax paper. Chill for 3 hours.

Preheat oven to 350 degrees.
Cut each log into 24 slices and place one inch apart on baking sheets lined with parchment paper.
Bake in preheated oven until edges are golden, about 10 to 12 minutes.
Cool on wire racks. Store in airtight containers.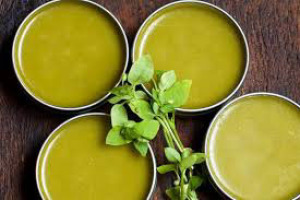 KATHY ADDS:

The following link is my "new thing to try this year." My grandma used to make a black drawing salve that she swore by. I am looking for a recipe that would be comparable.

I have made plantain salves in the past and use it liberally on myself and my dogs and cats for small wounds, sunburn and insect bites. Check out:

learningherbs.com/remedies-recipes/chickweed-salve

½ cup granulated sugar

2 teaspoons chopped fresh rosemary

1 teaspoon dried lavender buds

1 cup salted butter, softened

2 cups all purpose flour

¼ teaspoon baking powder

1/8 teaspoon table salt

2 tablespoons demerara sugar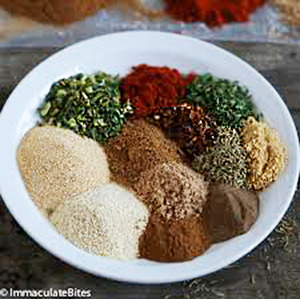 KRIS HILTY'S JERK SEASONING
It is great on meat and any vegetable.
1 tablespoon onion flakes
2 teaspoons ground thyme
1 teaspoon dried parsley
1 teaspoon ground allspice
1/4 teaspoon ground cinnamon
1 teaspoon ground black pepper
1/2 teaspoon cayenne pepper
1 teaspoon paprika
1/2 teaspoon hot pepper flakes
1/4 teaspoon ground cumin
1 tablespoon garlic powder
2 teaspoons salt
1/4 teaspoon ground nutmeG
2 teaspoons sugar
2 teaspoons dried chives
Just mix together and season to taste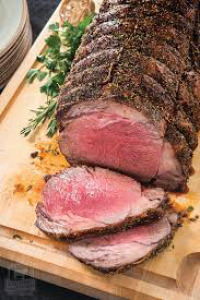 PAUL DECKER'S NEVER FAIL PRIME RIB
As a result of the things we grow at Mulberry Creek, it is easy to create recipes for your friends and families.
DRY RUB:
1/3 cup salt
3 teaspoons dry mustard
4 teaspoons fresh ground pepper
1 fresh garlic, minced
1-1/2 teaspoon garlic powder
1 tablespoon onion powder
2 teaspoons dried thyme
2 teaspoons dried oregano
2 teaspoons dried coriander
Allow your roast to stand at room temperature for at least 1 hour. Preheat the oven to 375 degrees. Season the roast with the dry rub and place in a shallow roasting pan. Do not cover or add water. Put roast in oven and bake for only 1 hour. Turn off oven, but do not open the door at any time until ready to serve. Regardless of the size of the roast, or the length of time the roast has been in the oven, turn oven back on at 375 degrees for 30 to 40 minutes before serving time. Let roast stand for 10 to 15 minutes before carving. The meat will be brown and crisp on the outside, pink and juicy on the inside. Garnish with parsley.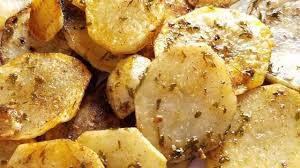 KATHY HUGHES' FRIED POTATOES
- serves 4
4 - 5 potatoes, peeled and sliced
4 tablespoons butter
1/2 onion, chopped
1 clove garlic, minced
white pepper & salt, to taste
chop the following fresh herbs:
1 teaspoon fresh rosemary
1 teaspoon fresh sage
2 teaspoons fresh dillweed
2 teaspoons fresh chive
Melt butter in frying pan on medium-high, add potatoes, onion, salt and pepper. Once browned and soft, add remaining herbs. Cook until potatoes are crispy!