Search Results
Your search for faery returned 6 pages and 431 herbs
Pages
Plants
A Child's Garden



...is close to my heart. Here's a few things I've learned along the way:
1. Can be as simple as a circle of herbs in the ground or a themed herb patio pot
2. Keep in mind the child from small accessories to pruning like Dr. Seuss
3. Teach with it- the lessons of living and dying, the wild variety of textures & shapes living harmoniously...
4. Build your muscles & imagination with healthy harvests & faery stories
5. Invite wildlife attracting hummingbirds with sage, precious bees with thyme & hyssop and butterflies with parsley & sage

Here are some guessing games with herbs you might have in your child's garden:

What plant smells like....ANSWER...
dirty socks? CILANTRO
grandma's perfume ROSE SCENTED GERANIUM
lemons? LEMON VERBENA or THYME

What herbs are... ANSWER
soft? LAMB'S EAR
velvety? PEPPERMINT SCT. GERANIUM
crispy? PEPPER BASIL

What herbs look like... ANSWER
brown & feathery? BRONZE FENNEL
a pine tree? ROSEMARY
seaweed? SAMPHIRE

Most of all, please do not re-plant or re-space your child's work. That's part of the learning as well. ENJOY!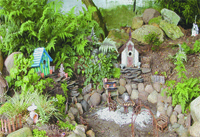 A Faery Garden? How to make one.



1. Think location. Do you have a child or a visiting child that has a favorite hiding area? Ben and Joshua chose a spot years ago on the shady, north side of our barn that had some weedy "Box Elders" and lots of rocks! That's where it went. Anywhere is fine, granted, it's a treasured "secret spot."

2. Ponder what plants qualify as "Wee Folk" worthy. While the only limits are your imagination, classics include the traditional Cicely Mary Barker plants like "Cowslip Primrose, Double Daisies, Ragged Robin," and many others. We're guided by plants that are fairly small, have delicate blossoms, are usually hardy perennials, ("Elfin Herb's" a sweet exception), tolerate at least a little shade (for those secret places), and have a good flowering span from spring through fall.

3. Most importantly, take time for soil preparation. Extra humusy, organic material is always good.

4. Embellish. Gather twigs and moss for faery houses and furniture. Look in your couch for marbles. They make terrific gazing balls.



A G-Scale Railroad Garden



Garden Railroads are America's hottest new hobby. Larger than the traditional indoor Christmas train, these weather-proof models run outdoors throughout gardens that are landscaped with miniature plants appropriate for this scale (G-scale). Small buildings and roads are added to create some amazingly realistic worlds. Interested? Then you have to check out "Garden Railways" magazine. Call 800-533-6644 for a trial subscription. Amazing photos.

O.K. for you railroad gardeners, here is a partial listing of suggested plants and how they can be used for your miniature world. Most are appropriate for a broad range of train scales. Look through our entire miniature section to determine the particular varieties listed, their hardiness and special qualities. Full grown versions of plants normally will NOT work in railroad settings, stone troughs or faery gardens. Don't forget the herbs for your RxR garden.

Most of the Thymes, mini Basils, Dwarf Curry, and hey even Parsley are great as well.



Aeonium, Irish Eyes Aeonium sedifolium


Cold Tolerance:

Zone 8a 9a 9b-11

Light:

Sun-P.Sun to P.Sun

Height:

6in.

Water:

Dry-Normal

Soil:

Sandy-Loamy

Flowers:

Early Summer to Late Spring

Common Uses:

Container, Houseplants, Miniature/Faery Garden

This miniature rosette ""Aeonium"" of bright green foliage can be a favorite on next year's St. Patrick's Day. Because of its thumb-sized rosettes on 4"" woody stem, it makes a no hassle ""Jar Gem"" as well as a tree in miniature desert landscapes. $ 4.99


Alternanthera, Gold Threads Alternanthera ficoidea 'Aurea Nana'


Cold Tolerance:

Zone 9b-11

Light:

P. Shade - P. Sun

Height:

8 x 8 inches

Water:

Normal

Soil:

Sandy-Loamy

Common Uses:

Terrariums, Shady RxR Gardens

Alternanthera are popular in public gardens because of the colorful show they perform in mass and their tolerance of pruning shears. Allow it to be a golden tropical tree or trim the top for a bushy annual specimen outdoors in the faery or railroad landscape. $ 0.00


Anacyclus- Silver Kisses Anacyclus pyrethrum var. 'Depressa Compacta'


Cold Tolerance:

Zone 4a 4b 5a 5b 6a 6b 7a 7b 8a

Light:

Full Sun to P.Sun

Height:

2in. X 2 ft.

Water:

Dry-Normal

Soil:

Sandy-Loamy

Common Uses:

Alpine Rockery, Garden Railroads, Groundcover, Hedges/Shrubs, Miniature/Faery Garden, Walk About



Peek under the silvery foliage and you'll find a red hue that is repeated in the buds which eventually open to a typical, but much smaller daisy of white petals and yellow centers. Together, the plant won't reach beyond your ankles. $ 4.99


Animal -BUTTERFLY 1632-44

Common Uses:

Miniature/Faery Garden

$ 0.50


Animal -CRAB 1642-41

Common Uses:

Miniature/Faery Garden

$ 0.50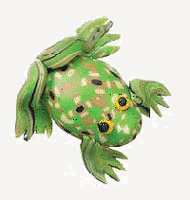 Animal -FROG 3-4-inch Claydough


Animal -FROG Fimo Lime-Yellow

Common Uses:

Miniature/Faery Garden

$ 0.50


Animal -FROG Real Looking

Common Uses:

Miniature/Faery Garden

$ 0.50


Animal -LADY BUG

Common Uses:

Miniature/Faery Garden

$ 0.50


Animal -ROCK TURTLE 1625-10

Common Uses:

Miniature/Faery Garden

$ 0.50


Animal -SEAGULL

Common Uses:

Miniature/Faery Garden

$ 0.50


Animal -SEAHORSE1642-43

Common Uses:

Miniature/Faery Garden

$ 0.50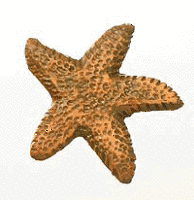 Animal -STARFISH 1-2-inch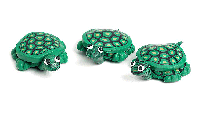 Animal -TURTLE flat back-Fimo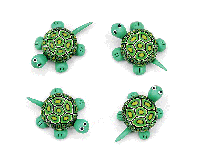 Animal -TURTLE Lime 1-inch Claydough each


Arenaria, Arenaria ledebouriana


Cold Tolerance:

Zone 5a 5b 6a 6b 7a 7b 8a 9a

Light:

P.Shade-P.Sun to P.Sun

Height:

1/2in. groundcover

Water:

Wet-Normal

Soil:

Sandy-Loamy

Common Uses:

Alpine Rockery, Garden Railroads, Miniature/Faery Garden, Walk About

$ 4.99


Arenaria, Micro Lawn Arenaria balearica


Cold Tolerance:

Zone 6b 7a 7b 8a 9a 9b-11

Light:

P.Shade-P.Sun to P.Sun

Height:

1/2 inch

Water:

Wet-Normal

Soil:

Organic-Loamy

Common Uses:

Alpine Rockery, Garden Railroads, Miniature/Faery Garden, Walk About

Rivals only ""True Elfin Thyme"" for the tightest, lowest, most micro-leaved groundcover we've spyed. Perfect ""Walk-About"" for those too sunny OR not sunny enough pathways. Because it needs good drainage and frequent water, it is the ideal lawn for mini landscapes and railroad gardens. Thyme-sized, white flowers decorate the foliage like frosting buds on a cake. $ 4.99


Artemisia, Tiny Green Artemisia viridis 'Tiny Green'


Cold Tolerance:

Zone 4a 4b 5a 5b 6a 6b 7a 7b 8a 9a

Light:

Full Sun to P.Sun

Height:

2in. x 8

Water:

Dry-Normal

Soil:

Sandy

Flowers:

Middle Summer

Common Uses:

Alpine Rockery, Garden Railroads, Groundcover, Miniature/Faery Garden, Walk About



Shrink a ""Silver Mound"" artemesia to a 2"" bush, turn it greenish gray and you have this equally soft, fine textured cousin. Sweet fragarance and, for an Artemisia, it seems to handle the summer humidity pretty darn well. $ 4.99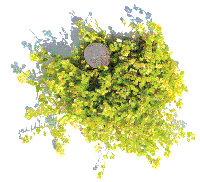 Baby Tears, Golden Soleirolia soleirollii 'Aurea'


Cold Tolerance:

Zone 8a 9a 9b-11

Light:

P.Shade-P.Sun to Shade

Height:

1in. groundcover

Water:

Wet-Normal

Soil:

Organic

Common Uses:

Garden Railroads, Groundcover, Houseplants, Miniature/Faery Garden, Shade, Walk About



Golden Baby Tears is a bright gold version of the popular houseplant. Micro leaves create a magical ground cover for railroad gardeners in the south, year round, and a standard for lawns in mini landscapes in the north, inside in winter & outside each spring. $ 4.99


Babys Breath, Pink Faery Flower Gypsophilia repens rosea
Frothy mounds of airy, pale pink flowers cover semi-evergreen, low lying foliage, summer through fall. $ 0.00


Bamboo, Wooster's Dwarf Pleioblastus pygmaea disticha 'Woosters Dwarf'


Cold Tolerance:

Zone 4b 5a 5b 6a 6b 7a 7b 8a 9a 9b-11

Light:

P.Shade-P.Sun to Shade

Height:

4in. groundcover

Water:

Normal

Soil:

Organic

Flowers:

No

Common Uses:

Alpine Rockery, Garden Railroads, Groundcover, Hedges/Shrubs, Miniature/Faery Garden, Shade, Walk About



What!? 4"", HARDY bamboo? Impossible, but perfectly true for cold, shady gardens as groundcover or with miniature hostas in troughs. Fills the bill for sorely needed vertical interest with an exotic, Asian touch. $ 4.99


Basket, wicker Large

Common Uses:

Miniature/Faery Garden

$ 0.50